Got a secret
Can you keep it?
Swear this one you'll save
Better lock it in your pocket
Taking this one to the grave
If I show you then I know you won't tell what I said
'Cause two can keep a secret if one of them is dead

-Secret by The Pierces (the theme song for the show)
Plot:
I've been following this show for a couple of years now and as of late I've found it quite stupid. The premise of the show is there are 4 girls (Aria, Spencer, Hannah, and Emily) who are trying to figure out what happened to their friend Alison who was "murdered". Along with trying to figure out what's going on they're being bullied by an anonymous group called "A". It was a great plot line until they found out that their friend Alison was actually alive and was being stalked by "A". This all takes place in a town called Rosewood in Pennsylvania. Let's make a farce of this show because it would be fun.
Rules:
1) Only original characters from the show will be accepted
2) Have fun!
Characters: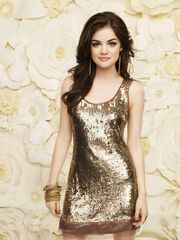 Aria Montgomery
 (claimed by Linas)
Bio: (I'm copying this from a Wiki page) Aria Montgomery was the artsy and alternative girl in Alison's clique prior to her disappearance, sporting pink hair streaks. Alison and Aria discovered Aria's father's affair with a college student, Meredith Sorenson, one afternoon while running away from the nerdy Mona Vanderwaal. Ever since, Alison used the affair to keep Aria in line, knowing Aria was asked to keep it a secret. Her constant teasing about the indiscretion led Aria to resent Alison. Shortly after Ali's disappearance, Aria moved to Iceland for a year, and came back, sans pink highlights, becoming more mature. She meets her future English teacher Ezra Fitz in a bar, hooking up with him, leading to an on-again off-again relationship throughout the series due to A's threats. Due to the loose connection she and Ali shared, she is not a frequent target of A, but is still forced to deal with the misfortunes A brings upon her (ruining her relationships, driving a wedge between her parents.) She can be described as a kind and caring friend, always willing to protect them from any threats A has.
Style: Bohemian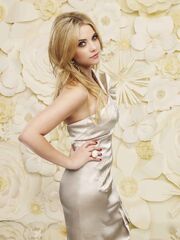 Hannah Marin
(claimed by Kyria)
Bio: Hanna used to be overweight prior to Alison's disappearance. Despite being the sweetest of the bunch, she was constantly made fun of by Alison for being overweight. After Alison went missing, Hanna befriended Mona and lost weight, becoming thin and popular over the summer. The newly minted queen bee, Hanna, wins Homecoming Queen but is constantly reminded by A of her dorky days as 'Hefty Hanna'.
Even though Hanna is one of the most popular and prettiest girls at school, she is generous and kind. She is the boldest and the most outspoken of the four girls often making snarky comments, not afraid to say what she really thinks of a person. However, she is very gullible and ends up trusting people easily.
Hanna is witty and sassy but also innocent, caring and thoughtful. She does everything to keep her loved ones safe from A. She is protective of her friends and shows her fierce side when defending them. She tends to get in trouble owing to her impulsive and rebellious nature. In the last few episodes, Hanna has had to deal with the fact that her mom is in prison because A framed her for murder; as always, Hanna is able to pull through and show some real strength towards clearing her mom's name with the help of Travis. After Spencer, Hanna is the one who has shown most effort, strength and dedication to find out who A is.
Style: Rock chic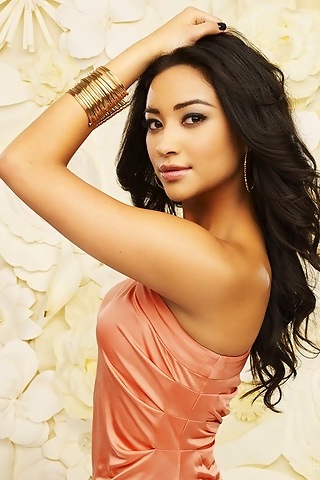 Emily Fields
Bio: Emily Fields is the 'jock' of the group with a strong talent of swimming allowing her to be the star of Rosewood's swim team. Out of the girls, Emily would be described as caring, sweet and loyal. Emily cares so much about her friends that she tries so hard to keep them safe. She is an only child therefore the center to her parents life. Although Emily has been through many difficulties (such as the death of her ex-girlfriend Maya St. Germain), she always seems to stay strong and comes out on top. Emily is considered the weakest link by "A."
Emily has had a rough past of being in love with her best friend Alison before she disappeared. When "A" comes to the scene Emily finds it hard to try stop people and even herself knowing her real sexuality, At times even Ali would say things to put Emily at risk of being outed. Initially when Emily came out, her parents, especially her mother, struggled to handle the news, but now they seem to be accepting of her sexuality and her friends have always be supportive of her.
Style: Sporty (aka Lipstick Lesbian)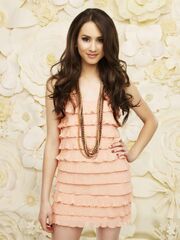 Spencer Hastings
Bio:If you were to describe Spencer Hastings, you would probably say that she is extremely intelligent, overachieving, and extremely wealthy. She constantly balances many jobs, such as internships, charity work, being part of the field hockey team, and after-school clubs. She is confident, calculating, and would stand up to Alison when no one else could, showing her determination and courage. Spencer's family can prove to be difficult. Her parents are very demanding, while her aggravating sister, Melissa, is constantly outshining her and winning their parents' scarce approval. With her fiercely competitive nature, Spencer doesn't demand anything less than perfection.
Despite being very sure of herself, Spencer does begin to show a bit of strain when she and her friends start receiving strange texts from the mysterious "A." She is very protective of her friends, and can come off as being bossy at times, but only because she wants to protect them. After losing her boyfriend Toby to the A-Team, Spencer suffered from a mental and emotional breakdown and was admitted to Radley Sanitarium after being found lost in the woods with no ID. To avoid any more suffering and pain, Spencer soon agreed to become a member of the A Team, but it was only to find out information about Red Coat and to see Toby. As of "A Dangerous Game," Spencer has been kicked out of the A-Team, as she was a double agent.
Style: Rich Preppy
"A"
Bio: The stalker. Always sending the girls texts like this:
Also does despicible things like blows up houses and runs over the girls
Style: All black, hoodie with mask over face and black gloves[/u][/b][/u][/b]