The Darkest Days
-New York City-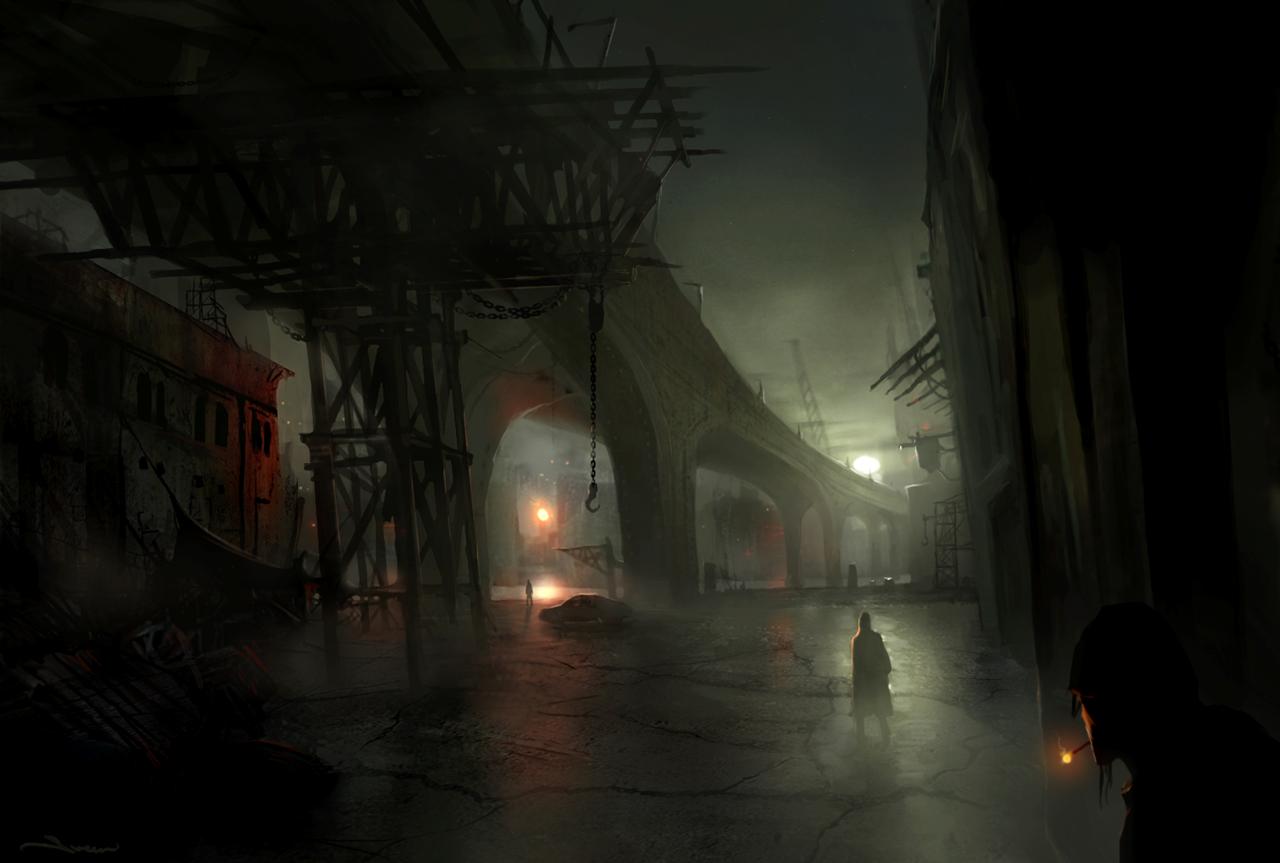 Imagine if every myth, every conspiracy theory and urban legend was true. Imagine if your worst nightmare came to life. Imagine a world where vampires hunt for mortal blood in dingy London night clubs, where werewolves lurk in the sewers beneath Seoul, and where bogeymen prey on the living in the shadows of New York City. The world is a darker place than we think, and this knowledge comes with a price. Secret Organizations conspire against one another, vampire covens war for territory, and werewolves battle for dominance. Welcome to the darker side of life.
Lineage
Humanity
Humans, or Mankind, are the most numerous of the sentient species. They are mortal, and must eat, drink, and sleep to live. They, by nature, are greedy and selfish, though many overcome this. Most humans know nothing of this world's dark secrets. They live in ignorant bliss, trodding through their meager existence in this world. Humans are the only race which can use magic.
Organizations
Illuminati
- "Sex, Drugs, and Rockefeller." Notorious bad boys and girls of the secret world, the Illuminati are the most ambitious, cut-throat, and furtive of secret societies.
From the gilded halls of the ancient pharaohs to the private clubs and decadent parties of the famously rich and egocentrically famous, from leaders of industry and Hollywood Agents to presidents and popes, the Illuminati have weaved their intricate web with ruthless cunning and acute skill.
They rule their corporate pyramid with cold opportunism, and only the strongest members survive. Their secrets can make you rich and powerful beyond compare - or they may destroy your soul and sanity with it.
The Illuminati seek to plunder heaven and hell by any means necessary, and God help those who stand in their way.
As a member of the Illuminati, you don't play by anybody's rules. The are no rules. There is no honour.
There is only victory.
The Order of the Dragon
- "The Art of Chaos." Manipulators and conspirators, the Dragon have survived for millennia by playing their enemies against each other. Since before the first empire, through the aggression of the Mongol Khans and the ebb and tide of political change, a whisper in the right ear, a strategic assassination, alliances carefully crafted and broken - and the world eventually bends to the patient will of the immortal Dragon.
With a spiritual and philosophical approach to the secret crafts, as an acolyte of the Dragon you are taught to listen, shown how to teach others, and expected to respect the balance of the universe and to be humble in the face of fate. Yours is not the path of force. though force is often needed to clear the path.
Few know of the Dragon and their long history, and that is how the Dragon want it. You are invisible but pervasive, silent but all-knowing, and when the other secret societies have decimated each other, you will rebuild the world from the ruins of their arrogance.
The Dragon is too easily underestimated, but those who do so live to regret it - or die before they get the chance
The Knight's Templar
- "Deliverance from Evil." Crusaders. Judges. The Holy Terror. The Templars are the world's least secretive secret society. Their military-ideological machine has operated in plain sight since Babylon - a matter of pride, or moral superiority. Conspiracy theorists underestimate the Templars' true European empire. Private armies. Members of parliaments. Royal families.
The Templars believe they will deliver the world from evil by force, and even their opponents - who call the zealots and warmongers - cannot deny that force. As an agent of the Templars you are not just fighting the war on darkness, you "are" the war on darkness. Suave and sophisticated, but brutal and uncompromising, you use history as a weapon to shape the future.
Few will stand in the way of the Templars' banner. Do you have the will to stand behind it?
Kindred
Kindred, or vampires, are the world's greatest hunter. Not for reason of brute strength, or instinct, or even intelligence. In these, they are surpassed by many. But, these cold husks hunt among the living, blending in with their prey to the letter. Vampires are undead humans who must drink the blood of the living to sustain their unlife, though, it grants them quite a few advantages. Vampires naturally have sharper senses, are stronger, faster, and more resilient than humans. They are also immortal, time doing nothing to them, and most weapons not affecting them much. Though, there are drawbacks; a vampire cannot be touched by daylight, holy objects burn their skin, garlic weakens them, and they can be killed by a wooden stake through the heart.
Clans
Maleficar
- Maleficar are a clan of vampires which were mages in life. Now that they have passed into unlife, their magic has left them, and they have had to adapt. Most of a Maleficar's time is devoted to improving their signature ability; manipulation of the blood. This "Blood Magic" as it's called is a powerful tool in the hands of a Maleficar. The clan itself is very secretive, and most of its members seem withdrawn to the rest of the world.
Romani
- The Romani are a clan of nomadic vampires, each being a loner for the most part. This clan has an innate connection with nature, and they spend most of their time in the paths untraveled, communing with beasts. The clan's members have a closer connection to nature, allowing them to speak to animals and plants, and even manifest traits and forms of the world's inhabitants through practice.
Incubi
- The Incubi are by far the most dangerous of the vampires; they glide effortlessly through mortal affairs. This clan has a natural empathy, sensing and swaying living creature's emotions to frightening degrees. Incubi are suave and sophisticated, each being at the top of the social ladder.
Werewolves
Werewolves, or lycanthropes, are by all means terrible beasts. These beasts are bearers of an ancient curse that burns in their blood. By day, they must go about their business in the form of a human, but once night falls, they become hulking monstrosities bearing both human and lupine qualities. In their beast form, they have enormous strength, speed, and greatly enhanced senses. Though, they are lost to their primal instincts. In modern times, they have grown wary of humanity and know they must conceal themselves, restricting their haunts to sewers and dark alleyways. What makes werewolves such a threat, though, is their invulnerability; a werewolf can only die by silver piercing it's heart. Wolfsbane will weaken a werewolf, but not kill it.
Legionnaires
Legionnaires, or demons as most know them, are otherworldly spirits that are thrust into this realm for any number of reasons. Demons are not meant for this world, and that is shown by their morbid bodies and warped mindsets. No two demons look the same. To exist in the mortal world, a demon has to have a medium with which to interact with the word; the most common choice is possession.